ZBrush: Modeling The Female Body Attempt #2
---
Posted on Thursday, February 3rd, 2011 by Malin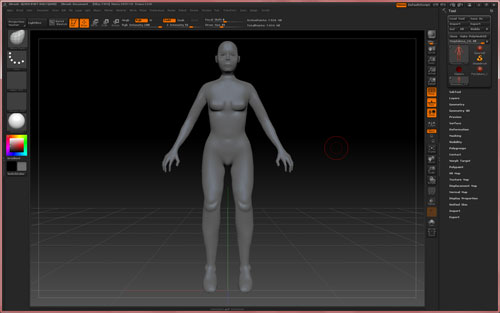 Since I want to get better at sculpting (and I have an urge to make figures that I cannot fulfill at the moment– it costs too much money and time), I decided to keep on modeling in Zbrush even after our course finished.
A lesson I seem to forget quite often: if you want to teach yourself anatomy LOOK AT REFERENCE PICTURES. It's much harder to stare blindly at a model and wonder where the faults lie. *sigh*
Until next time I suppose?
Also: Remember to look if the symmetry is correct before starting anything. Otherwise you'll have to use Mirror & Weld, which will in turn get rid of your lower subdivisions and give your model almost always triangles :C
And when I'm not smacking myself in the face for being an idiot when it comes to ZBrush, I am in school being taught UDK and Level Design

Work, work, work!
---