Magdalena the Penguin
---
Posted on Thursday, March 31st, 2011 by Malin
This is an update on that female zbrush model I worked on before. Her body (I am hoping) is a little bit more anatomically correct, but DAMN, check out those arms! The title says it all. Ahhh I really have no idea what goes on there. Have to study arm anatomy WAY more.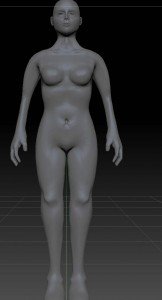 A friend told me Funcom has openings for a junior environment artist. Mmmmhhh… Funcooooom…. Ragnar Tørnquist <3 After Jane Jensen he's one of my biggest role models. *u*
I really should work on environments more. Everyone is aiming for character modelling so I don't know why I even bother, really. Well, okay. I do. I like making figures in Fimo, and I like animating those a'la Stopmotion. I would also like to create figures in 3D and animate those as well, to then create a story. FUN FUN FUN.
Eh, anyhow. I'll be working 9 to 5 every weekday with a project named Another Air. I'll be working with game mechanics. Let's hope I can live up to the task since this is the first time I've really done anything REAL concerning it. Hopefully I won't cross it with too much narrative, which was my last role in another project (which has now completely sunk to the bottom of the sea. Life goes on).
I probably won't have any time left for 3D, which is a bit sad in a way. I'm just starting to get the hang of it! Hmm, I guess that's what I will have the weekends for?
---
Tower in UDK
---
Posted on Friday, March 25th, 2011 by Malin
Sitting in class now, ready to present my model. So yeah, done. Not satisfied though. >8c
Not sure if I should give up on this one and start something new, or try to fix everything that's wrong with it. Especially the specular map and some seams that are way too visible, blaarrrgh. But it was a great experience, learned lots and all that!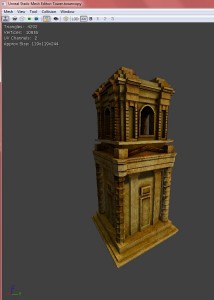 ---
Tower Update
---
Posted on Tuesday, March 22nd, 2011 by Malin
Finally started UV-mapping and doodling with the high poly ontop of the low poly. Woopwoop!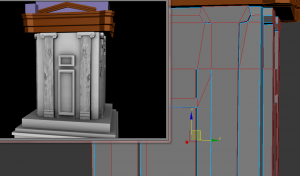 But now it's 3am… Time to watch some Supernatural and sleep!
---
T-t-t-t-toooooooower!
---
Posted on Saturday, March 19th, 2011 by Malin
BUSYYYYYYYYYYYYYYY.
I got a new group for Gotland Game Awards Gotland Game Conference, and I am in love with all of the people I've met from it. I forgot how much fun games can be! (and Dragon Age 2 didn't exactly help that. SO BORING. arrrrgh I'm so sad.)
Anyhow, a friend reminded me to start updating again, so here I am! This is how far I've come in a course called 3D III. I've learned so much in this course thanks to a great teacher and a gorgeous some other guy. Eheheheh, sorry, inside joke.
ANYHOW. I'll update again when I've gotten further! Got lots of stuff on my plate right now. Feels good man!
---