Wolverine
---
Posted on Saturday, April 23rd, 2011 by Malin
No, not X-Men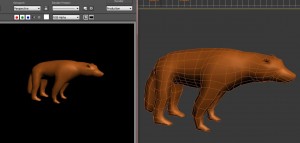 This is a WIP… But for now, I think I'm done. I should've added the claws, but I reaaaaaaaaaaaally don't feel like it. Might just start zbrushing this bugger and be done with it.

---
Another Air Big Game Project Week 3
---
Posted on Wednesday, April 20th, 2011 by Malin
I forgot to update, oops!
This week there was a lot of discussions mostly. I needed some clearing up on what they actually want in the game and, actually… What I want. This will continue next week.
Some of us are unable to work fulltime, but so that the game will progress faster, they're trying to squeeze in a few more design meetings. Fantastic!
One of our major issues is how to interact with the other world, if you catch my drift. There's a lot of great nails but only a few of them should be pegged in the coffin.
Eh, great analogy there…
---
Another Air Big Game Project Week 2
---
Posted on Monday, April 11th, 2011 by Malin
Hello! I think I'll start updating on mondays instead, I have more time then… Anyhow, on to the update!
I worked all week with thinking of different powers to be used in the game, and puzzles for them to be used. I also felt that I needed to get some feedback on what features to actually use in the game; we have very many awesome suggestions but nothing have been "solified" yet. I made some fast illustrations of all the ideas to discuss on friday's regular game design meeting.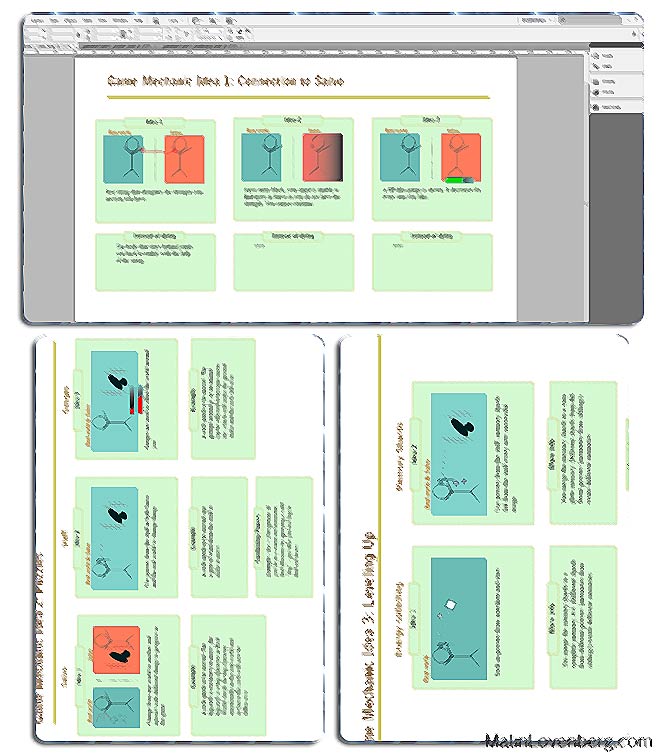 My inner Graphic Design Student is dying everytime I post these weekly updates… My layouts need to change, for sure! @.o
---
Another Air Big Game Project Week 1
---
Posted on Monday, April 4th, 2011 by Malin
Apparently in the course "Big Game Project" you're supposed to create a blog and in that blog "record" your progress in the game-making.
Hm. Maybe this one will suffice? Don't know how I feel of going in to deep detail on my work flow in this blog, and how much I am allowed to write about – ahhh such a tricky business when it comes to games. It's easier to show off stuff if you're producing graphics, but when it comes to game design it's a bit more tricky.
Anyhow. Thought I'd start to try to make a weekly update or so.
The update:
Lately I've been looking in to the main game mechanics in Another Air – I got to choose quite freely what to start thinking of suggestions for and I decided boss battles. I decided the main objective for them would be "beating" a boss without fighting fire with fire, but still making it intriguing and fun. I did 3 High Level Design Documents touching this subject and last friday we had a design meeting discussing LOTS, one being these documents.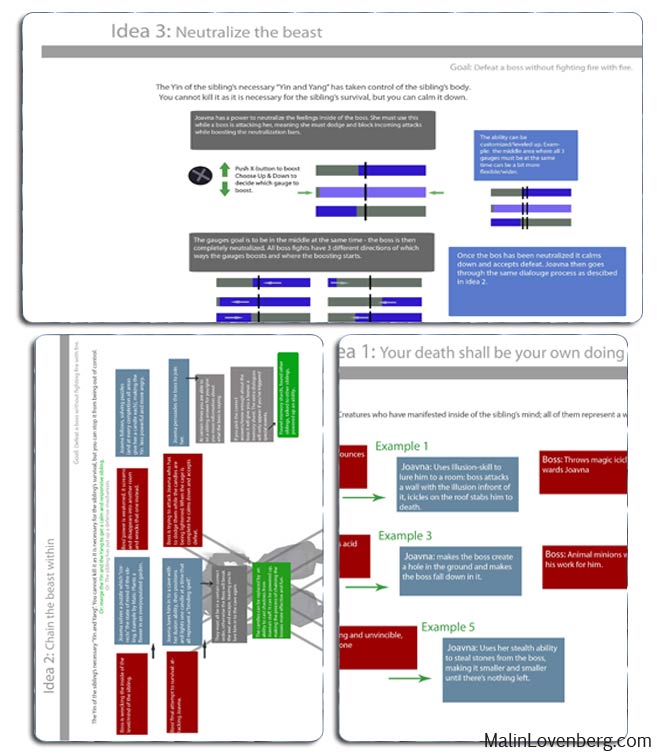 I was shitscared during this meeting mind you, I've never been put to the test except design assignments at school, but the ideas were well-received. Yay! I'm not sure if I'm allowed to post the documents here or not, perhaps I can put up those who were not put in the game… Which will in that case be after the game's done. That'll take quite awhile. Eh-heh…
Oh well.
So what am I doing this week? Pf, wait until friday and you'll find out~
---