Preparations: Gotland Game Conference 2011
---
Posted on Thursday, May 26th, 2011 by Malin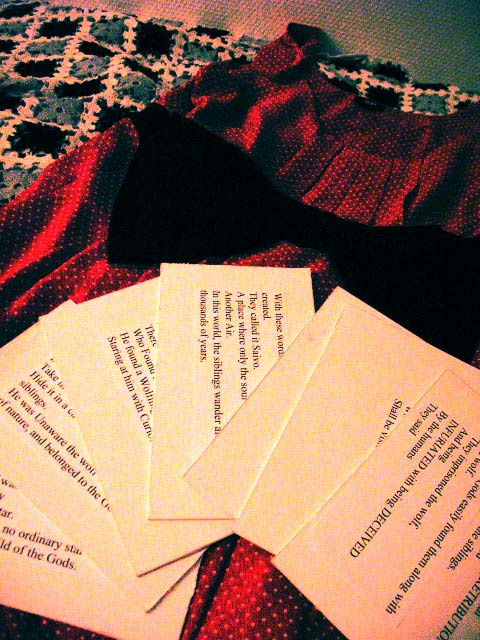 Got the dress picked out, and my cards for the presentation. Just in case I forget. I'll be wearing jeans and a black hoodie with the dress just to make myself comfortable, but still not look like a slacker. Yes, I know that no one really cares. But I do! I'm silly like that.
Ah, I forgot to mention why I'm doing the presentation (together with my fellow coworker Ylva, when one of us easily could've done it, or give it to one of our other coworkers).
Well, it's easy.
I hate presenting.
How can I work in a business pitching the games I want to make, and pitching MYSELF for that matter, if I refuse to work on my pitching and presenting-skills?
And if I'd get too scared to stand there on stage all alone and have a mental breakdown, I got Ylva to hold my hand. Well, not literally, but still!
Bada-bing!
---
Another Air Big Game Project Week 8: Final day!
---
Posted on Thursday, May 26th, 2011 by Malin
What I've learned this week is that drawing and having papers infront of you to doodle makes it easier for you to to explain your vision. Otherwise you are often forced to draw parallells to other games that you know people have played, just so people will understand… And that might still confuse them!
Here's a short summary of awesome guidelines I've gotten from my peers, and googling:
Link words/sentences in your text to things you see in the room.
Only use words you KNOW you can pronounce, and are a part of your every-day vocabulary. Nothing should feel forced, present a story you would to someone in your every-day life. Me: I had to cut something as simple as the company's name (Digital Nature). I was confident in everything else, but saying "Digital Nature" and hearing it sounding ridiculous, lowered my self-esteem so much my whole presentation often turned sour. But after cutting it I could easily progress saying the rest of the text.
Have confidence in what you're presenting: the ones looking should be honoured to learn what you're willing to give them.
Record yourself and listen: makes it easier for you to remember the text and also see where your faults lie. Me: I talk too fast, which makes me mumble the words. Biggest faults: short words, as in my mind they were "expendable". "Eat"  and "It" were very difficult.
If you're nervous on the big day (like I think I might be), and you have to sit through presentations before your time is up, bring a Gameboy/DS/MP3-player and ignore the other presentations just to keep a cool head.
That's it folks! In a few days I'll be publishing a thingiemajigg that summarizes my whole experience… And tomorrow's the day we'll be presenting our concept to judges, and exhibiting our game! EEP.
Until then, ciao!
---
Silent Hill 3 Making Of
---
Posted on Wednesday, May 18th, 2011 by Malin
I am currently on the hunt for this in its original form. That is, on a DVD included with a brittish magazine from 2003. Ugh. Not an easy task. But I'll be on the lookout! D:
I thought I'd show it here since… Well, it's so good! It's also a fantastic example of what I talked about in my last entry: how to take inspiration for your characters from something that already exists: magazine covers, actresses and other characters. In example, Douglas in Silent Hill 3 was inspired by the priest in The 5th Element!
---
Another Air Big Game Project Week 7
---
Posted on Monday, May 16th, 2011 by Malin
As we speak I am working on the presentation for Gotland Game Conference. I taught myself the basics of After Effects last week to compose a trailer for Nordic Game Conference, this will be perfected for GGC this week. I've also been learning Powerpoint (what?! I didn't know? No, that's what happens when your upper secondary school is Media oriented and all teachers are in love with Mac! …so yes, I only knew how to use Keynote) and doodling with the images and the text to the powerpoint all weekend, not knowing what to do.
How to compromise an adorable 2-page long fairytale to a maximum of 5 slides and ~10 sentences, and mix some selling taglines into it without feeling like a complete doofus while presenting it to the judges?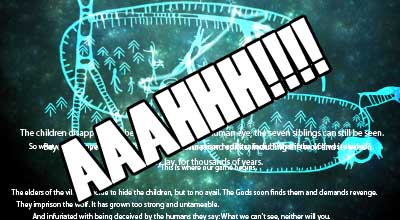 THIS IS HARD.
Unless you're Don LaFontaine.
---
Another Air Big Game Project Week 6: Rolemodels & Inspiration
---
Posted on Tuesday, May 10th, 2011 by Malin
This week and last week I've been on some narrative meetings. What I've come to realize more and more during this time, is that when creating a character, have a stereotype in mind, or at least a character that already exists in mind.
Sometimes keywords for the character you're creating won't come or are hard for other members to understand, but if you, as we in our group finally realized: "Hey, this girl sounds like Claudia from Interview with the Vampire!"– you can easily describe her: This girl is small and cute, but very very frustrated that she's unable to change, jealous even. In our case she might not be jealous of the female curves that she can never posess, but maybe she's jealous of another sibling, or even the world that she is not a part of anymore.
So. My advice for creating a character: Take a character or a stereotype that you think fit (it can even be an actor!) and tweak it.
What do they have in common, what sets them apart? What makes your character your own creation? It's not supposed to be stealing, it's just supposed to give you a rolemodel!
A better example is something that I noticed awhile ago.
Take Fenris from Dragon Age II. He's described as a wolf, and walks around like a caged animal. He is angry and frustrated, he wants his enemy to suffer for all that he has caused him. He doesn't trust anyone.
Now, if you have a Rivalmance with him, there is a scene that made me think of something…
In this scene, he spits out "You will be the death of me!" AH THE BITTERNESS AND THE LOVE. YES. It must be! He is Heathcliff!!!!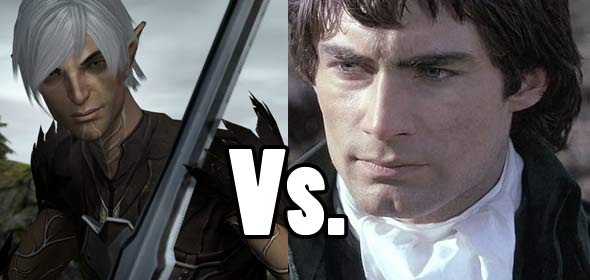 For you who don't know what I'm talking about: Heathcliff is the main villain in the book Wuthering Heights. He is the best example of an anti-hero. He is a foundling, and a badly treated one. He is also often described as a caged animal, like Fenris. But Heathcliff finds love in a girl that starts caring for him, and this is where his true tragedy starts. ("You will be the death of me!", anyone?)
After I drew this connection I realized why I didn't like Fenris, but why I wanted to like him. His lines are sometimes sugarcoated (but not has horrible as some of Anders'. GAAHHH.) and sometimes not deep enough, probably because of the lack of time the writer had to develop him.
…But his rolemodel is pretty kickass!
---
Another Air Big Game Project Week 5
---
Posted on Tuesday, May 3rd, 2011 by Malin
I had a meeting with Albertina Sparrhult concerning a contract. Me and Ylva sat down and planned the first level piece by piece, bringing in the feedback I had been brought to my fake screenplay last week, and on friday I had a designmeeting with Pernilla and Björn.
We're steadily moving along, the only thing I'm concerned about is that we don't know how long the game will be. A few weeks ago it was 7 hours, but it is turning bigger and bigger every week. It's hard to design puzzles as you need to think of how long they're going to take for the player to solve.
But what the heck, at least we're moving forward! We can at least make an outline if we try to plan out a test-level for each chapter.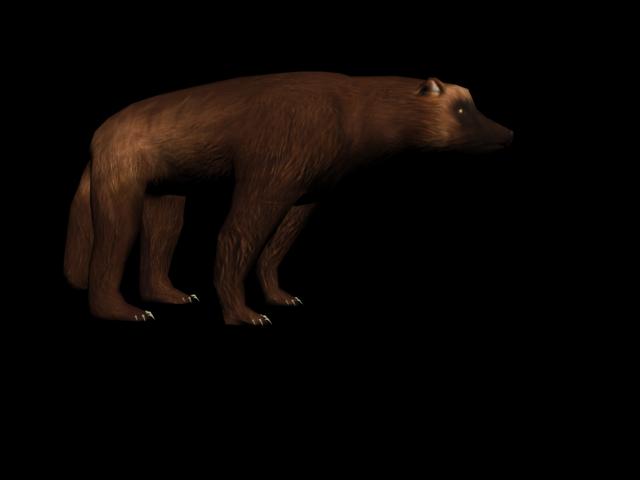 On another note, I also finished the wolverine. Yay!
---
Another Air Big Game Project Week 4
---
Posted on Tuesday, May 3rd, 2011 by Malin
This week, we all sat down to make a feature definition and discussed it quite extensively.
I made an overview map, but to make me see better how the game would play out, I decided to make a fake 2-page screenplay for the first level. This brought up a lot of questions that had been left unanswered, which was fantastic!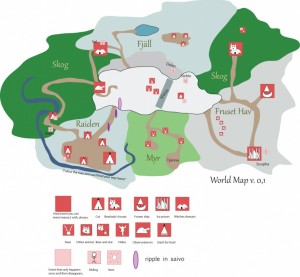 Because without questions, how can you progress?
I also had a meeting together with Albertina Sparrhult where we started discussing the first character the player is introduced to.
What are her motives for being there, how does she feel towards the player, blablabla. I also got to know more of the narrative.
---
Sugary Goodness
---
Posted on Sunday, May 1st, 2011 by Malin
Hellllloooo everyone!
Long time no see. Uhm, I've been pretty busy. For one, something horrible happened! For fun I've been making a Wolverine for my project Another Air as you might now, but what you might not know is that I've been working my butt off to create an okay-looking diffuse map for it. I need to work with my 2D skills, really.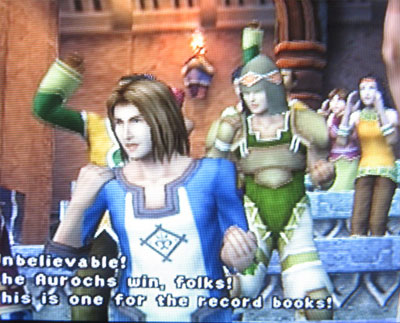 (interjection: Arnhem helped me beat the Blitzball tournament in Final Fantasy X. YEEEEESSS FINALLY!!!! Just had to restart the game about 10 times…)
Anyhow, when it was finally finished, I was going to upload it to our Another Air dropbox, but I decided I was JUST going to try to install a small point-and-click game I had found and check it out.
I clicked the setup and my computer responds with a "FFFUUUUUUU" and a pretty blue screen. Long story short, I've backuped my files and now I'm trying to repair the damage. Aka formating my computer. Sigh.
On a happier note, I thought I should finally add some pictures of cakes, since the tagline of this website includes "cupcakes!". Arnhem and I usually bake stuff for the fun of it, but I often forget to take pictures of them. But now I have some!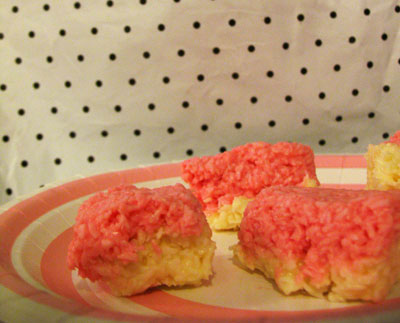 Here's some delicious coconut ice!
AMNAMNAMMMMMM.
Then we swiftly made a cake at a barbecue for when Musse was visiting Gotland, hadn't met him in ages, it was so much fun! And so was his cake! Doesn't it look hilarious? (as in, hilariously bad.) HAH.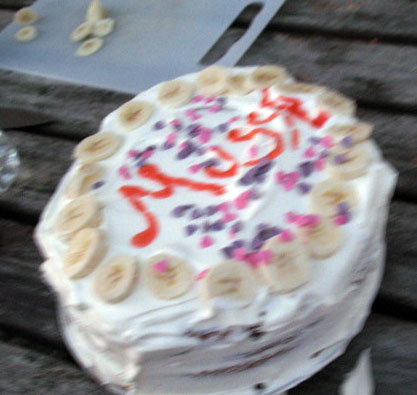 This blurry picture is all I have D: Maybe that's a good thing…
---