The Robotic Lotus in UDK
---
Posted on Sunday, July 17th, 2011 by Malin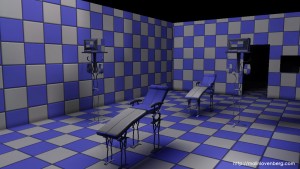 Tiny update! The rooms' basics are done, this is the room where people are strapped down before using the finely named "goggles".
The TV are used to show the heartbeat(other vitals of the person and the bags are filled with nutrition. Some people enjoy the goggles so much they refuse to wake up for over 24 hours while using them, so they need some foodzz!
---
The Robotic Lotus
---
Posted on Saturday, July 9th, 2011 by Malin
I had a clear vision of a shop I made up for a game that never happened. To work on my portfolio I decided to create it using 3D Studio Max and Unreal Development Kit. First step, a blue print of some sort!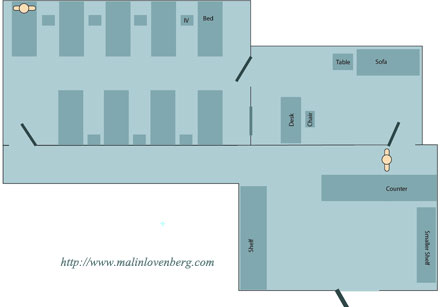 ---
Lost in Wonderland. Well, soon; most definitely.
---
Posted on Monday, July 4th, 2011 by Malin
Oh God.
I was not hyping Alice: Madness Returns.
I am so glad I didn't.
I've started playing it, and every little thing makes me smile.

I'm still not quite there yet when it comes to the creepy wonderland that was American McGee's Alice… But this game is JUST SO BEAUTIFUL.
I mean it. I am not talking just the graphical style, there's just so much work put into the whole game. And from what I've seen, the pace of teaching the player new tricks is fantastically thought out. There's a fine line between making a player too bored or too confused/ragequitting.
IT MAKES ME SO HAPPY.
Even the tiny tutorial images makes me want to die inside.
PS. I have recently played an adventure game called Alpha Polaris. It has one of the best puzzles I've ever encountered in an adventure game these past few years. It gives me hope to see adventure game try to think outside the box, even though just a tiny bit. I was also thrilled to see they made their main character's nose bigger than the usual (as I'd like to call it:) "Square Enix/Final Fantasy"-nose.
Go, go, scandinavians! DS.
---
Long time no see: I'm working on some anatomy!
---
Posted on Friday, July 1st, 2011 by Malin
(HAH, that rhymed! …sort of!)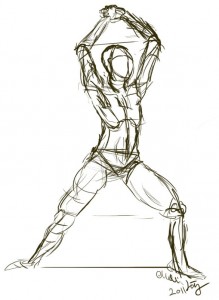 Well, not so much anatomy as movement in poses.
3 weeks ago I could not have gotten this result. I still have a long way to go, but at least I'm having lots of fun getting there!
---