Project: Neverwinter Nights Quest- First Steps
---
Posted on Monday, November 26th, 2012 by Malin
Howdy-doody, I'm back from the dead! Sorta. Lemme show you what I've been working on~
I am on a quest (heh!) to learn a scripting language and some Creation/Tool Kits for some added skills to my tool belt as a narrative and game designer. As my plan stands for the time being, I'm starting with reading the book Beginning Lua Programming (Programmer to Programmer) – one chapter per week. I really have no scripting skills except using a little bit of Kismet in UDK in school, and this book, is at least for the time being, really good. It explains everything in detail (sometimes a little bit too much, but it's a good thing!) and there's never anything I am left questioning. I've only read a few chapters so far, but, for the time being I am very happy.
Anyway, I can't really be using my whole week to read, now can I? Nope! Two of the work days I've planned for (…doing the fun stuff!), creating a quest in a specified Creation Kit.
As I already had Neverwinter Nights installed, I decided to start there. Now, I like having a plan before I start doing things, so I read the amazing Toolset Manual and then planned what needed to be in my quest (specified with what I thought Neverwinter Nights' toolset could handle), creating a dandy SCRUM-like planning; including how much time I thought each feature would take. After that I took all priorities marked with "High" and added them to the side; creating an MVP – Minimum Viable Product, to see if this was something I could achieve.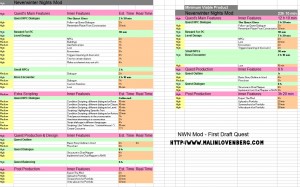 When done with that, I wrote about two or three different scenarios that the quest could be… But none of them felt good. I was at a loss, so I decided to start dabbling with the level design hoping I'd get inspired. I ended up looking through all assets, seeing what was I was drawn towards – most of it being statues and water. I also knew I wanted a dungeon, because… Well… Dungeons are cool! At the same time I had a Word document open, writing down the ideas the level gave to me as I was creating it.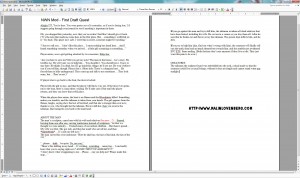 I still have some question marks, and I'm not sure the layout is really enticing for the player, but I've got an outline that I'm really happy with. I've also sort of realized that my stories get way better when I get inspired with what's available than the opposite. Heh. Lesson learned!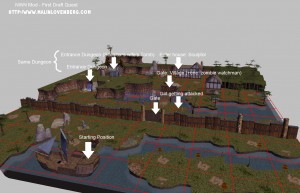 It feels fantastic to be sort of "back in the saddle" – so many months have been spilled this year on writing a bachelor thesis and other academic papers that I almost forgot how happy creation makes me. I'm extremely glad to be back.
---