NaNoWriMo, Comic and Writing
---
Posted on Saturday, July 12th, 2014 by Malin
Holy moly. I haven't updated this blog in ages. I  suppose I lost track, since after I moved from Germany I've been doing work samples and running off to different countries for interviews (you have to give the Employment Agency a little bit of creds– they payed a little of my airplane tickets at least). Funny enough, I ended up in Sweden anyway.
Ah well. It was amazing meeting the people behind games you love and admire!
Something I haven't mentioned before is that in November last year I was a part of NaNoWriMo, and it was spectacular. I have been wanting to take part of it since 2006 I believe, but I was being a lazy bum, and since I truly wanted to get a story out of my head that has been gnawing there for a couple of years, I decided, 2013 was the year it was going to happen.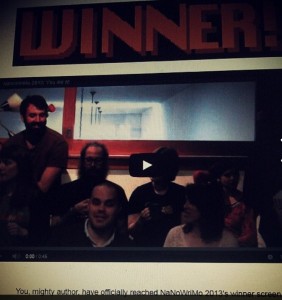 Woohooooo!!
I got a 50k word draft out of it, and it was brilliant! Not the draft of course, but it gave me a great picture of what characters were important and how my world was structured. I even got to research how to hunt and  how to skin a carcass!
Anyway, since it was just a blabbering mess, I started re-writing my NaNoWriMo novel awhile back this year, amongst moving and working and all that. To be honest, it would have been better to just continue right after November ended instead of postponing it for so long, as I barely remembered the changes I wanted to make last year.
Even so, after tons of anxiety, chapter 1 finally got finished today! Alongside a few drafts and structures of the other chapters of course, but I truly wanted to get the gist down before continuing. I've been having a terrible block for ages since I couldn't get a good flow of introducing the rules of the world alongside the main characters and the way they looked. It had to not be too fast so people forgot them– but not too slow so people already think they know what they look like before you tell them. I think it's decent now at least. Phew.
To be honest I'm really psyched to continue… So I am not sure why I decided to post a blog instead?!
I've also started a comic project with Ylva. She is fabulous and is currently drawing life into my characters and story in a way I never would have imagined. I love team work, which is probably why I am working in the Game Industry in the first place. Games are aaaalmost always a collaboration of sorts. Almost.
As we get further along I might post some sketches and outlines, but if you're super-curious there are some up on her tumblr; http://spader7.tumblr.com.
I am also considering using a tumblr and sort of create a cross-post between it and Instagram. Perhaps even to this blog? I'm not sure what format I would prefer. Scrolling through Instagram pictures on a blog feels sort of pointless, but it works for tumblr. But blogposts also work for tumblr. Ack! We'll see.
Until then– toodles!
---