ZBrush The Sad Man
---
Posted on Tuesday, October 4th, 2011 by Malin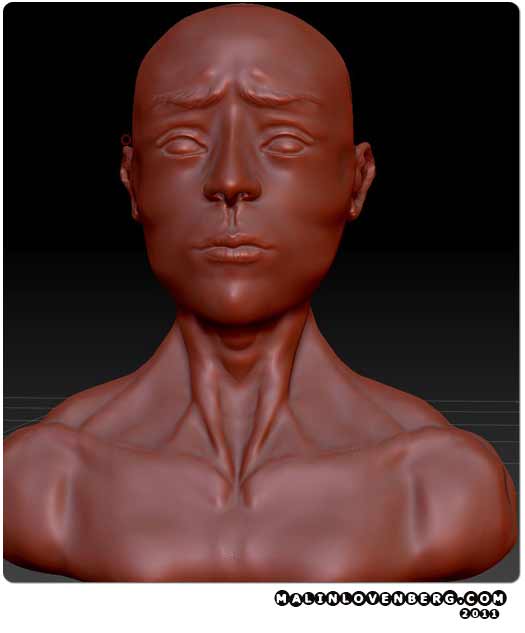 An assignment for school, learning different techniques in Zbrush. For once I enjoyed sculpting in ZBrush and I did not have as much trouble as I had the last time. Must be a sign that the teacher's good, right? Or maybe I'm just getting better, eheh.
---
The Robotic Lotus in UDK
---
Posted on Sunday, July 17th, 2011 by Malin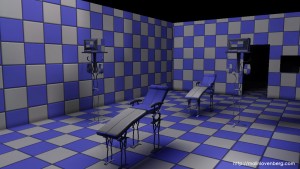 Tiny update! The rooms' basics are done, this is the room where people are strapped down before using the finely named "goggles".
The TV are used to show the heartbeat(other vitals of the person and the bags are filled with nutrition. Some people enjoy the goggles so much they refuse to wake up for over 24 hours while using them, so they need some foodzz!
---
The Robotic Lotus
---
Posted on Saturday, July 9th, 2011 by Malin
I had a clear vision of a shop I made up for a game that never happened. To work on my portfolio I decided to create it using 3D Studio Max and Unreal Development Kit. First step, a blue print of some sort!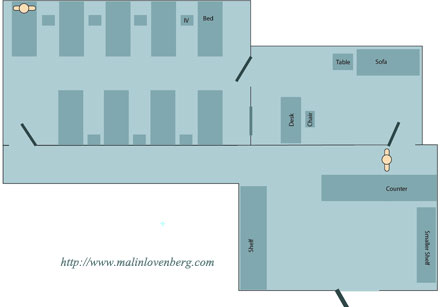 ---
Wolverine
---
Posted on Saturday, April 23rd, 2011 by Malin
No, not X-Men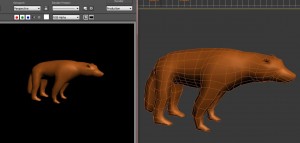 This is a WIP… But for now, I think I'm done. I should've added the claws, but I reaaaaaaaaaaaally don't feel like it. Might just start zbrushing this bugger and be done with it.

---
Tower in UDK
---
Posted on Friday, March 25th, 2011 by Malin
Sitting in class now, ready to present my model. So yeah, done. Not satisfied though. >8c
Not sure if I should give up on this one and start something new, or try to fix everything that's wrong with it. Especially the specular map and some seams that are way too visible, blaarrrgh. But it was a great experience, learned lots and all that!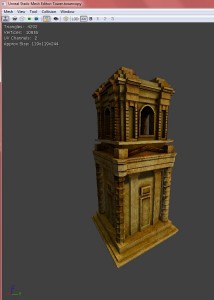 ---
Tower Update
---
Posted on Tuesday, March 22nd, 2011 by Malin
Finally started UV-mapping and doodling with the high poly ontop of the low poly. Woopwoop!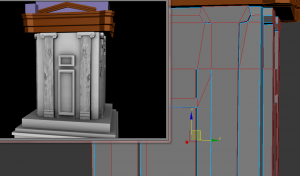 But now it's 3am… Time to watch some Supernatural and sleep!
---
T-t-t-t-toooooooower!
---
Posted on Saturday, March 19th, 2011 by Malin
BUSYYYYYYYYYYYYYYY.
I got a new group for Gotland Game Awards Gotland Game Conference, and I am in love with all of the people I've met from it. I forgot how much fun games can be! (and Dragon Age 2 didn't exactly help that. SO BORING. arrrrgh I'm so sad.)
Anyhow, a friend reminded me to start updating again, so here I am! This is how far I've come in a course called 3D III. I've learned so much in this course thanks to a great teacher and a gorgeous some other guy. Eheheheh, sorry, inside joke.
ANYHOW. I'll update again when I've gotten further! Got lots of stuff on my plate right now. Feels good man!
---
ZBrush: Modeling The Female Body Attempt #2
---
Posted on Thursday, February 3rd, 2011 by Malin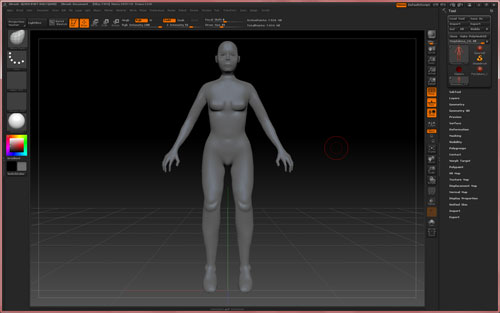 Since I want to get better at sculpting (and I have an urge to make figures that I cannot fulfill at the moment– it costs too much money and time), I decided to keep on modeling in Zbrush even after our course finished.
A lesson I seem to forget quite often: if you want to teach yourself anatomy LOOK AT REFERENCE PICTURES. It's much harder to stare blindly at a model and wonder where the faults lie. *sigh*
Until next time I suppose?
Also: Remember to look if the symmetry is correct before starting anything. Otherwise you'll have to use Mirror & Weld, which will in turn get rid of your lower subdivisions and give your model almost always triangles :C
And when I'm not smacking myself in the face for being an idiot when it comes to ZBrush, I am in school being taught UDK and Level Design

Work, work, work!
---
Zbrush Course – DONE!
---
Posted on Friday, January 14th, 2011 by Malin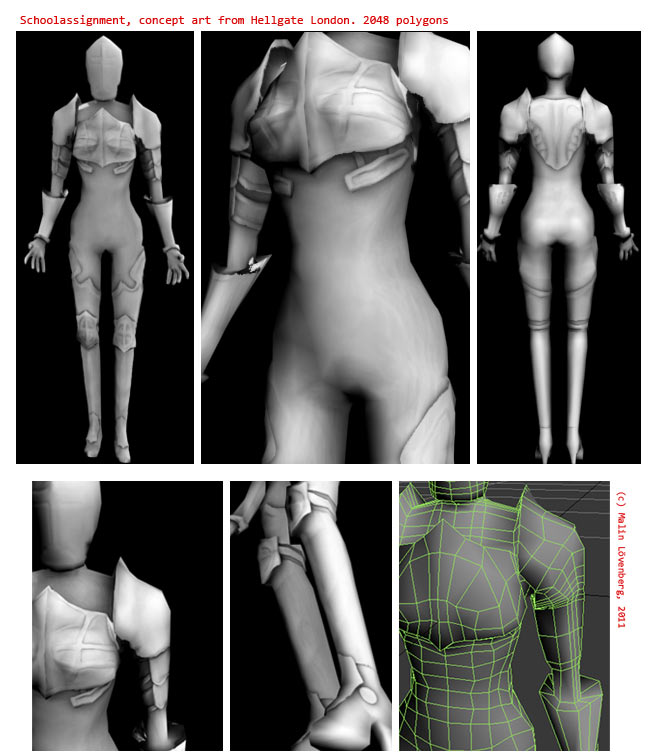 And here's my result!
The assignment was to understand Normal and Diffuse mapping + exporting a high poly model you made in zbrush and "topologize" it to a low poly version.
Woopwoop!
I'm really hyped to keep on doing this to get better.

Just got some other school work to do first!
---
ZBrush: Second Attempt
---
Posted on Wednesday, November 24th, 2010 by Malin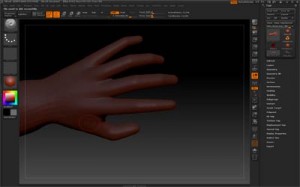 Without a reference so it's a bit wonky, but there ya go!
---
Next Page »