The Night of the Rabbit Welcomes You to Mousewood
---
Posted on Saturday, April 27th, 2013 by Malin
Gamespot has posted a preview of a game I was a writer for; The Night of the Rabbit, a point-and-click adventure from Daedalic Entertainment. This is the first time I hear the English voice acting inside of the game, and gosh do they sound amazing! I can't wait to play it, so happy.
---
Tiny Scheduling
---
Posted on Monday, February 18th, 2013 by Malin
Hello? Hello? Yes, yes, I'm still here! Unfortunately there's not much to say nor show that wouldn't bore you, dear reader.
Well, alright, since you look so sad, I got something for you. Today I created a quick schedule for one of the chapters of a project I'm working on. I needed to see what has been implemented and what can be implemented, since some things, like the walkmap, has to be done before the scaling can be done, and after using Excel for managing some of my other projects I've gotten a bit fond of it (and I bet my teachers are happy to see my development).


Strange, isn't it? Four years ago I wouldn't have believed it; Me, keeping track of myself, and in Excel of all things?
"Ew," Malin from four years ago would've spitten out with disgust.
---
The Rabbit's Apprentice Promo Cards
---
Posted on Tuesday, September 11th, 2012 by Malin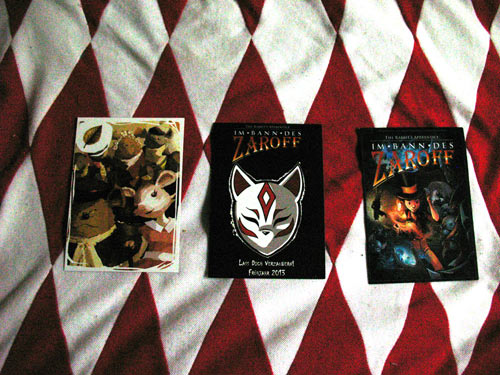 One of my fellow co-workers were kind enough to give me a little gift; these cards were handed out at a convention to promote The Rabbit's Apprentice!
(Apologies to my awful camera…!)
The first one is drawn by concept artist Mathias Fischer and is a part of a card game featured in The Rabbit's Apprentice. The second one is a mask worn by a Foxgirl referred to as Kitsune, and the third one features our hero Jerry Hazelnut fighting off evil~! I can't believe how beautiful these turned out, aaahhh!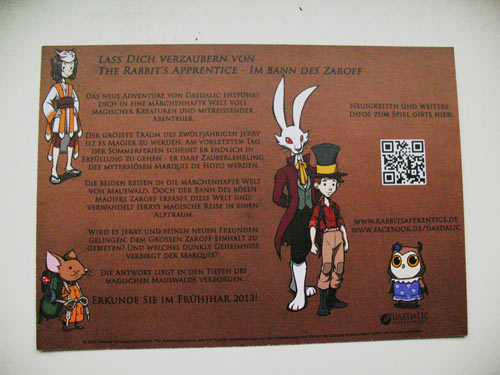 They all feature the same back, and unluckily I can't read German (…yet! Taking a language course in a few weeks, woopwoop!) so I have no idea what it says. Maybe one of you guys do?
---
Hamburg Internship Daedalic: The Rabbit's Apprentice is ANNOUNCED!
---
Posted on Thursday, August 2nd, 2012 by Malin
Characters present in the images are Jerry Hazelnut (main character with his cute big hat!), Jerry's mother, Edith the Squirrel and Spitzweig the adventurer!

For 6 months I had an internship at Daedalic Entertainment in Hamburg, and 3 of those were spent working on a game by Matthias Kempke named The Rabbit's Apprentice.
The game got announced yesterday and images are starting to circle the web. I'm super-excited! I worked there to evolve the story and enhanced some characters together with the creator, while writing dialogue, hotspot text and puzzle logic for the game. I had a blast doing so and I'm extremely happy to finally be able to do the modernised version of "shouting it from the rooftops"; writing a blog entry about it and posting it on Facebook! Heh…

Hopefully its official website will have more information to tell soon, but for now you have to make due with the one available: http://www.rabbitsapprentice.com
---