The Night of the Rabbit Welcomes You to Mousewood
---
Posted on Saturday, April 27th, 2013 by Malin
Gamespot has posted a preview of a game I was a writer for; The Night of the Rabbit, a point-and-click adventure from Daedalic Entertainment. This is the first time I hear the English voice acting inside of the game, and gosh do they sound amazing! I can't wait to play it, so happy.
---
Tiny Scheduling
---
Posted on Monday, February 18th, 2013 by Malin
Hello? Hello? Yes, yes, I'm still here! Unfortunately there's not much to say nor show that wouldn't bore you, dear reader.
Well, alright, since you look so sad, I got something for you. Today I created a quick schedule for one of the chapters of a project I'm working on. I needed to see what has been implemented and what can be implemented, since some things, like the walkmap, has to be done before the scaling can be done, and after using Excel for managing some of my other projects I've gotten a bit fond of it (and I bet my teachers are happy to see my development).


Strange, isn't it? Four years ago I wouldn't have believed it; Me, keeping track of myself, and in Excel of all things?
"Ew," Malin from four years ago would've spitten out with disgust.
---
The Rabbit's Apprentice Promo Cards
---
Posted on Tuesday, September 11th, 2012 by Malin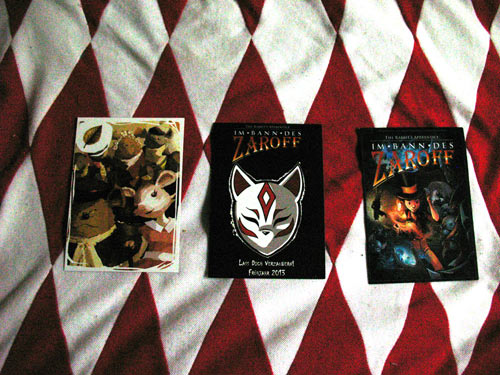 One of my fellow co-workers were kind enough to give me a little gift; these cards were handed out at a convention to promote The Rabbit's Apprentice!
(Apologies to my awful camera…!)
The first one is drawn by concept artist Mathias Fischer and is a part of a card game featured in The Rabbit's Apprentice. The second one is a mask worn by a Foxgirl referred to as Kitsune, and the third one features our hero Jerry Hazelnut fighting off evil~! I can't believe how beautiful these turned out, aaahhh!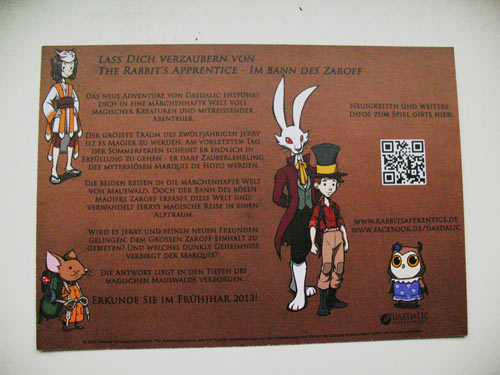 They all feature the same back, and unluckily I can't read German (…yet! Taking a language course in a few weeks, woopwoop!) so I have no idea what it says. Maybe one of you guys do?
---
Hamburg Internship Daedalic: The Rabbit's Apprentice is ANNOUNCED!
---
Posted on Thursday, August 2nd, 2012 by Malin
Characters present in the images are Jerry Hazelnut (main character with his cute big hat!), Jerry's mother, Edith the Squirrel and Spitzweig the adventurer!

For 6 months I had an internship at Daedalic Entertainment in Hamburg, and 3 of those were spent working on a game by Matthias Kempke named The Rabbit's Apprentice.
The game got announced yesterday and images are starting to circle the web. I'm super-excited! I worked there to evolve the story and enhanced some characters together with the creator, while writing dialogue, hotspot text and puzzle logic for the game. I had a blast doing so and I'm extremely happy to finally be able to do the modernised version of "shouting it from the rooftops"; writing a blog entry about it and posting it on Facebook! Heh…

Hopefully its official website will have more information to tell soon, but for now you have to make due with the one available: http://www.rabbitsapprentice.com
---
Hamburg Internship – Your Favorite Character Just Got Deleted
---
Posted on Tuesday, April 24th, 2012 by Malin
This happens often. A character that is not needed for the main story arc has to either be merged with another character, or deleted to save time. (Time is money!)
Question is, how do you fill the gaps your character left behind?
In my example, one young woman and one old guy was sharing a Café. They had cute "fight" conversations with each other and interrupted the main character as he was talking to one of them.
The old guy was the eccentric one and he got deleted. The neutralized and quite balanced young woman now turned flat as a pancake without her supporting old guy. She had to change, so I added eccentricity and catchphrases to make her appealing again.
And lucky for me, I loved the old guy so much, he didn't get deleted, he just "died" before the game started. This means I could describe him from the belongings he left behind in the Café, and also mention him a little in the dialogue with the young woman.
I loved what my character stood for, as what he was trying to sell were things that scared the village he lived in. (Give the place you're running around in some depth, not only the characters!) So since he got deleted, I decided to make the young woman try to do the same thing as he did "in his loving memory", hoping the world would change, but it isn't going well. Some things just never change, especially in a small village!
However, as dialogue and words are counted in games I needed to save up on as much text as possible. As a suggestion to you all, try to explain as much as possible about the dead character through items left behind instead of letting another character explain who the dead guy was. These items don't even have to be click able – it's all about the emotions it brings out of the player. This might be a perfect chance to really connect with your level designers – if you have any! For example, discuss what items in the room describe the character that used to live there and what kind of feeling should be present after he's gone. The level designer might know exactly what sort of light and colors inflict that emotion on the players, and you as a writer might not! (Teamwork 4tw, people!) It's all about the feeling, not the words. Besides, it's boring listening to some random NPC reminisce about something that doesn't exactly matter to the player.
Remember to give your players a reason to care, and don't shove information down their throats! They'll just click the fast-forward button.
---
Hamburg Internship: Recap
---
Posted on Monday, April 16th, 2012 by Malin
As some of you may know, I planned to have an internship for 3 months at a German gaming studio and then move back to Sweden to write my Bachelor Degree.
Things changed. I am signing a contract at the gaming studio for 3 months more, and I'll be staying to write dialogues and other text for a game they're working on. For the time being I have written dialogues for 2 strong female characters, and 1 other has been planned.
The other character sheets I wrote accidentally were of characters that had to be cut out of the game, including my favorite character, a cute little old man whom I was desperately looking forward to write about – he was so different to what I usually do!
Well, one character that was not female survived, but as a new writer intern arrived, she had to be put to work as well. She was given my character sheet and told to write dialogues from it. As it was ~ 3-4 pages long I hope she has no problem getting ideas.
In the mean time I am writing/researching my Bachelor Degree 1 hour a day + 1 day with 5 hours (I'm in a foreign land when it comes to my research and everything about this particular thing seems to be very hush-hush… I don't know why. It excites me beyond belief but also discourages me from time to time), and I am also fighting to get my first project at the gaming studio published. We'll see how that goes. Please keep your hopes up for me! I'd appreciate it immensely!
On a side-note, I will also be dying parts of my blonde hair turquoise, and become one of those Tumblr-posers we all love to hate to love. I haven't dyed my hair since it was completely black, and I am terrified it will fuck up. However, I don't have much time to experiment before job-hunting starts, so… Let's just go crazy, right?!
Ooh, right! I also changed rooms again. A much nicer one I have to say, but I had just started to get to know the people in the other room, so it was a bit sad having to say good bye so soon.
Much love to you all who are reading, and I'll be hoping to be able to post good news in the near future.
---
Hamburg Internship #10: Week 9 – Writing Tabu
---
Posted on Friday, March 9th, 2012 by Malin
So… What is Violence exactly?
Discussions about the main villain in my story has been in my head this week. The word "attack" and other synonyms used in a children's story is very tabu. Why hide something that children will understand anyway? Just to make the adults reading it with the child feel more secure? Why are adults doubting children's comprehension of things? I am not one of those who like to see 10 year old's be excited over the fact that they can kill people with plastic bags in "the new Manhunt game", but I am not one of those who like to sugarcoat things just so the parents feel more safe.
My mother read One Thousand and One Nights to me as a child and a favorite story from the Greek Mythology was one of Theseus journey to the Labyrinth and slaying the evil Minotaur. I was scared shitless, but it was awesome nonetheless!
Can it be because my heroine is a girl, and she gets attacked by an evil wolf? Can't girls be attacked in children's stories? And is it worse if a female she trusted is attacking her? The plot thickens. I will try things out and see what sticks. I also need my concept artist to draw a wolf with a face that isn't too scary, but still scary enough making you disconnected to the wolf as it's… Eh. Not in the story anymore, so to speak.
Either way… I got the chance to write dialogue for three of the characters I wrote character sheets for. OUUUHH! Writing the perfect line is hardddddddd. You need to know your characters really well; hinting at what you know is underneath. Nothing should ever feel like it's being "explained". Difficult! Especially since I love writing long sentences, and when a game needs to count every word that is said, it's tricky! But very challenging, and I love it!
---
Hamburg Internship #9: Week 8 – Changing Rooms
---
Posted on Friday, March 9th, 2012 by Malin
It's been awhile…!
A lot has happened. For one thing, I've changed rooms! The other project that was having the same room as me has started to grow; a few animators and scripters are being acquired and they needed the space I was taking up.
The people in my new room are pretty cool too, so no harm done. Other than that, I wrote a lot of character sheets, and had lively discussions with the concept designer of the main ideas were, and backgrounds for the main characters. My dear Narrative and Game Designers, my lesson this week has been this: Even if something is not to be shown in game, never say "it does not matter what their relationship is, it will never be in game".
Never say never! Planning sucks but once it's done, the fun stuff, aka dialogues, works like a charm.
In news of my own project, I created images and descriptions of all rooms/images and got feedback from the programmers, so now I definitely know what will work and what won't. They gave me an OK-stamp (not literally), which is good! My concept artist even took the time to concept a few images, so this week was pretty good!
---
Hamburg Internship #8: Week 7 – Differences and Respect
---
Posted on Tuesday, February 21st, 2012 by Malin
This week was the week I was finally going to present my game to the CEO of the company.
Me and my concept artist worked hard, and I must be honest; a little bit of arguments ensued. These turned out to be more like discussions however, and it was one of the most professional and opinion-accepting argument I've ever had with someone while working on a project.
The argument at hand was as in most cases, about time. I could not afford having him rendering one image to perfection with different light sources and what-not when I needed 3 more of them for the presentation, but I completely understood why he needed to. It's his work and he wants to be proud of it, especially if it's being presented to the CEO! In the end we both made compromises, and I've never felt as okay and guilt-ridden after an argument has ended as I did then.
It was a good one, and I realize now more than ever that it is very important to have an open dialogue with your co-workers if you disagree on something. What most people forget is that the respect has to be there though and this time it really was, making it to a perfect discussion without hurt feelings or name-calling.
(There's lots of crap that can happen if the respect isn't there, and I bet most of you know exactly what I'm talking about. Thank god for failed game projects during college! You truly learn how to handle and love a "good" disagreement.)
Speaking of the CEO however, he unluckily did not have the time. Nevertheless, I got to present it to the Lead Programmer of the company and the Lead Game Designer. They were kind enough to offer feedback from the presentation, and some time next week I am hoping to present to the CEO as well.
While waiting a guy came up with an idea and asked me if I thought it was possible. I got intrigued, and asked if I could write a few stories with his limitations in mind, and set off to work. Two scribbled stories later, I think I am on to something, but not really satisfied with the stories. I might write a third one. Hmmm!
---
Hamburg Internship #7: Week 6 – Back and Forth
---
Posted on Tuesday, February 21st, 2012 by Malin
Some times things don't really go your way. This is definitely true when it comes to the game industry. Things always change; sometimes for the better, sometimes for the worse.
What you need to do is to move on, and keep looking forward.
Due to time management, I was not able to write dialogue for a game I thought I could. This sucks, as the most fun with writing character sheets is to put them into good use, but as the game is in German and translating my dialogue from English into German takes a lot of time, I understand completely.
For an artist, I guess it might be as being given a thumbnail, then put line-art to it, and a bit of color. You're just about to render it with shadows and highlights and alter it a bit, but your program only saves in a file that can't be used and converting it on another computer would take too much time.
However, I am still thinking of different scenarios for the characters as well as character sheets. One of the most interesting ones made me research Kleptomania and strive against making him the stereotypical character I saw in my mind, since it was so apparent. It was hard, and I hated him at first. However, I worked hard, and was happy with the result in the end. He can stand alone and isn't confused with other people that are just like him.
Challenge time!
Want to do what I did? Imagine an elf, dwarf, computer… And make them into something original. I know you see a happy, harp-playing elf in your mind, or another Legolas, so how can you change it into something else?
Think of all the stereotypes you know, write them up, take bits and pieces you like, and then either alter them… Or create something that is the exact opposite.
A few of my favorites of this is the dwarfs in Dragon Age: Origins that are scared of falling into the sky, or Marvin the Paranoid Android from Hitchhiker's Guide to the Galaxy that is more or less the opposite of happy-going C3PO from Star Wars.
In other news,
This week was an emotional roller coaster not only because of work, but because of the fact that I needed to find a new room to stay at. I sent many many many e-mails, often getting replies as "You sound like a great person, but I don't speak English very well. Sorry, good luck." BUT, some of them actually wanted to meet me. "I don't speak English very well, BUT, you sound so nice, so let's try! BTW, I love Sweden!"
I talked with a colleague that went to 3 appointments a day for a whole week to finally find one room. Only one out of them accepted him. He's a guy, but he knows German. I'm a girl from Sweden, but I don't know German.
I think it was the Sweden part that made me win, otherwise we would have been on the same playing field. Thank you, heritage. Thank you, gender parts.
It really felt like job interviews. Very tiring. All of them had people I could see myself living with, but the rent in most of them made my economical heart cry. I decided to go with the cheapest one; not only because of the rent but also because I could really see myself living there. I was a bit early so I walked around in the neighborhood, and it felt good. So did the room mates; two guys who probably knew more English than I did! Their accent was excellent American, and after saying I wanted to learn German they even offered to put notes on all of the kitchen's supplies, saying "You'll learn German in no time!" SO CUTE.
One of them even listened to Tool. I mean come on, that has too be a good reason if anything! *wink*
---
Next Page »