Dreamer
---
Posted on Wednesday, October 22nd, 2014 by Malin
As I am here, writing this,  Zoë Castillo is staring into the abyss of dreams on my computer screen. It is the launch day for Dreamfall Chapters, and I have played nothing of the real game, yet hundreds of emotions have swept over me throughout the introduction. I had to pause. I had to collect my thoughts. I had to stop because tears were filling my glasses to the brim and I couldn't see anything anymore. I haven't interacted with the game in any way; I have just been a passive observer and yet it has affected me far greater than any game I have played in years.
It is quite unbelievable how games and the memories connected to them can affect people this way. You grow up with them, and the good ones always walk with you on your own journey. I've waited eight years for this game, and so have many others. During those eight years I have grown up considerably, and the mere panorama of the worlds I've loved to walk in ever since TLJ's release in 1999 was apparently too much for me to handle.
I am still crying, and I find it odd, and… fascinating. Embarrassing, even.
When Dreamfall: The Longest Journey was released,  Zoë and I were in the same head space. I played it during a summer of incredible heat amidst a depression of not knowing what my life held in store for me. I was barely seventeen years old, and her interaction with Wonkers is something I still have etched into my mind.
As the game came to a close I felt lost and abandoned, but life goes on. I found a path and followed it, never truly looking back until I was at JourneyCon, the convention held by Red Thread Games in Oslo. As they played through Friar's Keep I remember looking around me in the audience; seeing the amazed and happy faces of those around me. I felt very disconnected and slightly jealous. If this moment had happened when I was seventeen I would have been just as ecstatic as them, but I seemed to have gotten lost while growing up.
What happened?
I'd like to blame game making, even though it has brought so much joy to my life. When working with games and playing them on your free time it usually takes the edge off certain things. You start analyzing and appreciating the craftsmanship instead of being immersed. You applaud their makers and try to memorize things you liked so that you can develop certain aspects yourself.
When logging into Steam today I was terrified of feeling the same thing while booting up Dreamfall Chapters.
Instead I was met with too many emotions to count, bawling my eyes out over seeing a glimpse of April Ryan and the confident smile of  Zoë Castillo. The introduction made me feel like it was only yesterday I saw April on that bridge.
I don't even know what to say except that I am a tad bit jealous of the lovely people of Red Thread Games for making me feel this way, but I am also ecstatic over the fact that it was still possible.
---
Skyrim Module/Quest Design Outline
---
Posted on Tuesday, May 7th, 2013 by Malin
I'm teaching myself Creation Kit at the moment and have constructed a level after writing a synopsis of the quest outline. I've been working with figuring out scenes, triggers and dialogs (and some Papyrus, obviously), but soon the necessary assets are going to be implemented. In the mean time, check out my outline "scribble":
Click the image for full view.
---
That Moment When Your Rolemodel Notices You
---
Posted on Tuesday, March 12th, 2013 by Malin
Have you ever had that moment? I've had a few, unfortunately or fortunately, mostly including fan-art contests (where I usually didn't win, but at least I got nominated! One time my favorite illustrator even asked if she could exhibit my fanart – which were dolls of her characters – on a show she was doing. I was so happy I could die).
This time contest was a little swithed up and included a postcard, hosted by my first love when it came to doll creation; Marina Bychkova. The winner is presented with the best prize she could possibly think up; one of her gorgeous Enchanted Dolls, cast in resin. I doubt my dear Rolf Lidberg postcard stands a chance, even though that illustration means a lot to me (he was born in the same town I grew up in, and I miss Sweden a little, so seeing his cute trolls in forests always make me happy). But to be a top 50 out of ~450 isn't too bad, right?
Especially when I read her description to the postcard: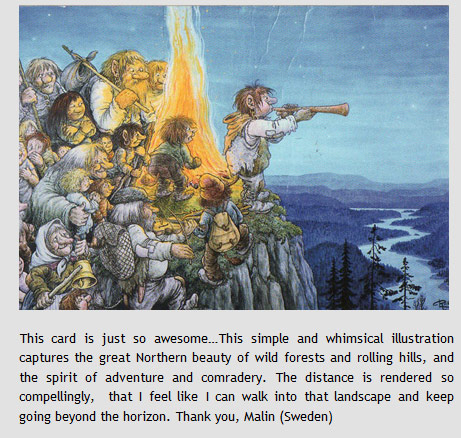 Fangirl Squee! :$
---
New life, but not really.
---
Posted on Sunday, January 20th, 2013 by Malin
As I'm sitting here, eating my lunch, more than one year later since I first arrived to Germany, I realized something.
…I haven't updated my blog! HEH. Things have been very hectic lately, and actually, quite fun. Just before the new year started, I moved for the fourth time. This time together with two amazing people that I got to know through Daedalic; two of my former work colleagues, actually! It's late January now and we've been getting along quite well at the new place, even though I did accidentally splash wall paint in one of my roommates' hair (the "bird poop brings good luck"-joke I made after was not appreciated) and unfortunately I also broke one of the doors' handles while trying to close it, making me fall flat on my ass. (Either I'm the she-hulk, or that plastic monstrosity was old and crappy. You choose.)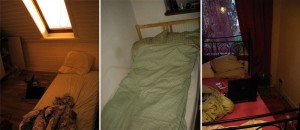 My last three rooms.
Before all three of us could move in completely we needed to repaint all of the rooms, as well as a horrendous dark brown cupboard in the kitchen. It's stylishly white now along with almost everything else in the apartment.

One of the rooms being painted and our improvised clothing rack for our washed laundry.
It took many nights after work and a lot of chinese food, but we did it! Well, the inside of the cupboard is still left and we do not have any pans to cook food in, thus leading to more chinese food (and boiling water for tea inside of the oven), BUT this is one of the first apartments in a long while I've actually felt at home in.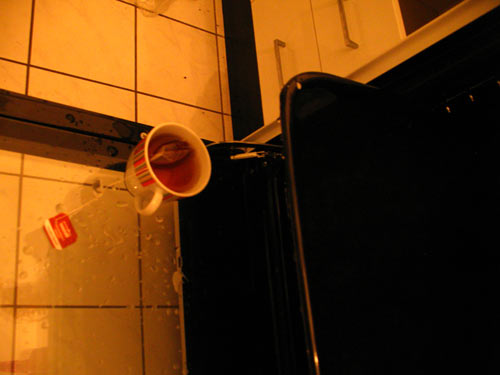 Living Spartanian.
After one of the rooms were finally dry from all of the paint, we assembled and packed the necessities out of the boxes.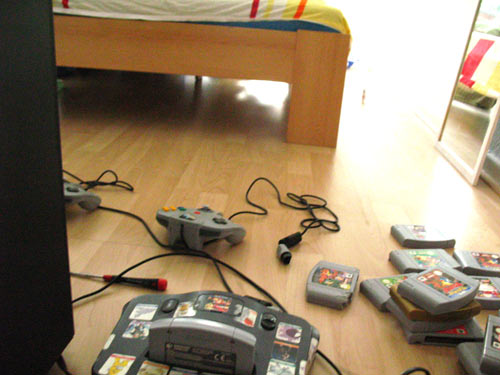 Bed and Nintendo. Unfortunately the PS2 was scuffed away as soon as one of my roommates found Golden Eye.

I started this new year by working at Daedalic again; once again in January (I started last year in January, heh), and I'm now working with Scripting and Staging instead of Game and Narrative Design.
There's a lot of new stuff, leaving me with the manners of a sloth as soon as I come home; eat and sleep at once, but hopefully as the new impressions turn fewer I'll be able to work some more on modding and quest designing when I go off work, or, at least during the weekends. For now I'm keeping the weekends for sleeping (and a little bit of video gaming… shhh!)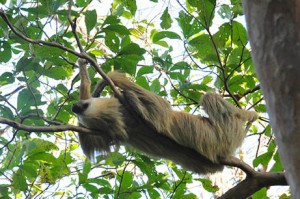 Me and the sloth bid you farewell for now~!
---
Go, go, Powerranger
---
Posted on Thursday, November 3rd, 2011 by Malin
I have lots of e-mails and meetings and assignments and classes and blahdehblahblah. Movie Analysis class is quite fun. I started liking "Sånger från Andra Våningen" again – a movie I liked as a kid, but thought nowadays to be too depressing and strange.
Actually… It's hilarious! And has beautiful shots.
ANYWHO. Many changes are occuring. In a few weeks I'll be giving my three months notice of my apartment. This also means that in a few weeks I have to have found another apartment, and god knows what district (or what country?) that will be.
I'm in the process of finding an internship, and I know it's the same for all the other people out there; waking up in the morning to find emails with "Sorry, but no" is never fun. It takes the life out of you.
But when you actually get a "Actually, maybe. We should talk", it's the most energizing boost EVHURRR.
…until you realize even more planning is about to begin and you freak out even more.
And when all this internship business is over and done with, even more stuff will happen. My exam paper. EEP.
In the meantime, I'm also mesmerized by Anne Rice's Mayfair Witches trilogy. She's been able to create a fictional character I hate but still understand more than any character I've ever read about. Respect.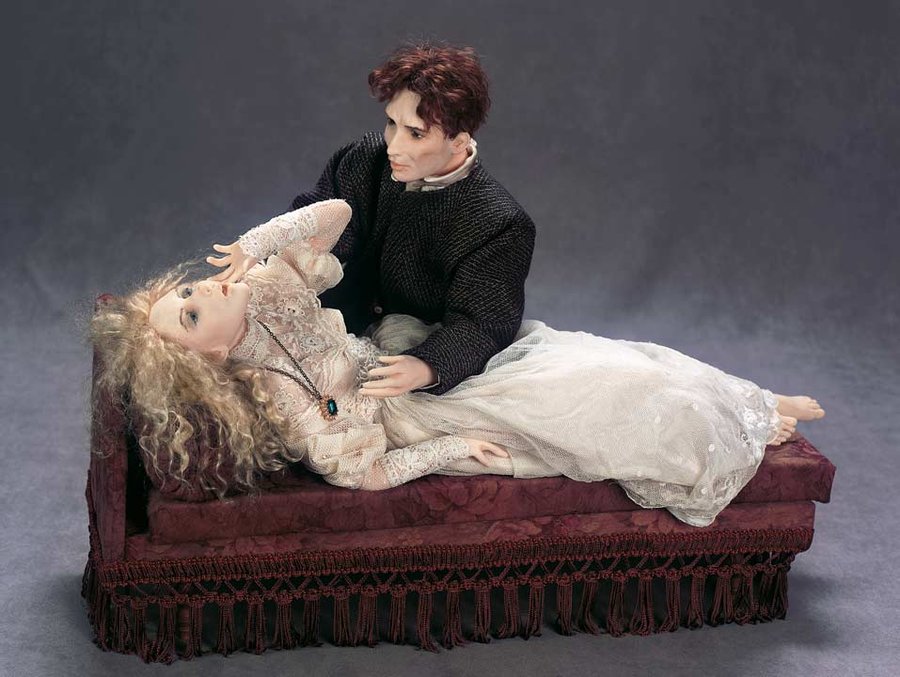 I found the most beautifully crafted wax dolls out of the main character Rowan, and my main HATEHATEHATEobject, Lasher. ROWAN IS SO PRETTY.
(Can you read how cramped my mind seems to be? Lots of stuff. Lots, lots. Fo' shizzle.)
---
My Front Page is Cool
---
Posted on Friday, September 23rd, 2011 by Malin
WOOOOH, yes, I forgot to mention; the portfolio has succesfully been integrated!
I'll be updating regularly with short stories so keep coming back to the front page or click Portfolio to get there. I'm working on a Show/Demo Reel, just not quite sure how much info to put into it without it being boring @_@
---
Updating
---
Posted on Tuesday, September 13th, 2011 by Malin
If anything look wonky on my website right now, my apologies. I am integrating a portfolio at the moment.

---
Malin's Wishlist
---
Posted on Wednesday, August 3rd, 2011 by Malin
Here's a list of stuff I'd like:
Notebooks with lined paper to write in (preferably with a spiral binding and a rubber band that holds it together. A smaller format than a4 would be nice).
A new "Work-Out" outfit. I use a bulky t-shirt and a pair of pants that keep slipping down. Every time I go running/to the gym I feel like a hobo, but I have no idea where to find interesting sports wear and how it should look like. Help?
A new sports bra. I've had mine for over three years now (oops).
ANYTHING that is said to help against Tinnitus. Give me all the New Age stuff you can find.
Headphones that are "mild" towards your ears.
Clothes. To look at what I like, you can check out my favorites on Etsy: http://www.etsy.com/people/dollosophy/favorites?ref=pr_faveitems_more (My bust is 102 cm, my waist is 82 cm. This should give you a ho-hum of what size I need!)
And if you're looking for less abstract wishes, check out my Amazon Wishlist where I keep all the items/clothes I've been craving for years, but never bought:
http://www.amazon.co.uk/registry/wishlist/2FKQIQ83EQXCL
---
Sugary Goodness
---
Posted on Sunday, May 1st, 2011 by Malin
Hellllloooo everyone!
Long time no see. Uhm, I've been pretty busy. For one, something horrible happened! For fun I've been making a Wolverine for my project Another Air as you might now, but what you might not know is that I've been working my butt off to create an okay-looking diffuse map for it. I need to work with my 2D skills, really.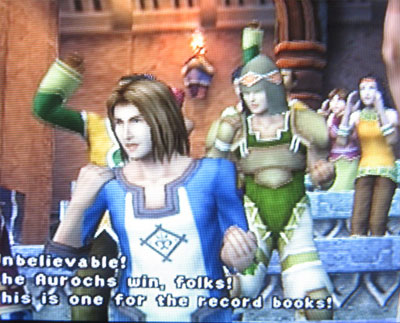 (interjection: Arnhem helped me beat the Blitzball tournament in Final Fantasy X. YEEEEESSS FINALLY!!!! Just had to restart the game about 10 times…)
Anyhow, when it was finally finished, I was going to upload it to our Another Air dropbox, but I decided I was JUST going to try to install a small point-and-click game I had found and check it out.
I clicked the setup and my computer responds with a "FFFUUUUUUU" and a pretty blue screen. Long story short, I've backuped my files and now I'm trying to repair the damage. Aka formating my computer. Sigh.
On a happier note, I thought I should finally add some pictures of cakes, since the tagline of this website includes "cupcakes!". Arnhem and I usually bake stuff for the fun of it, but I often forget to take pictures of them. But now I have some!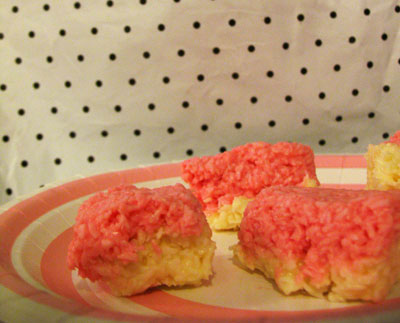 Here's some delicious coconut ice!
AMNAMNAMMMMMM.
Then we swiftly made a cake at a barbecue for when Musse was visiting Gotland, hadn't met him in ages, it was so much fun! And so was his cake! Doesn't it look hilarious? (as in, hilariously bad.) HAH.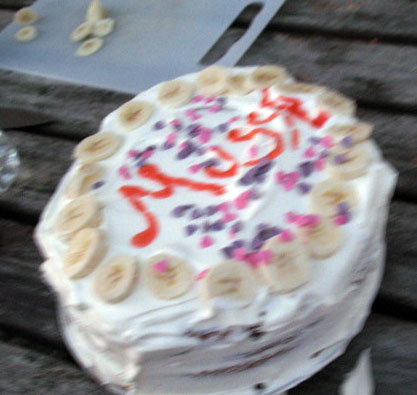 This blurry picture is all I have D: Maybe that's a good thing…
---
Magdalena the Penguin
---
Posted on Thursday, March 31st, 2011 by Malin
This is an update on that female zbrush model I worked on before. Her body (I am hoping) is a little bit more anatomically correct, but DAMN, check out those arms! The title says it all. Ahhh I really have no idea what goes on there. Have to study arm anatomy WAY more.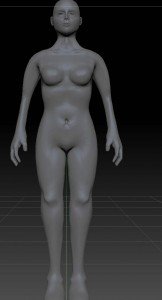 A friend told me Funcom has openings for a junior environment artist. Mmmmhhh… Funcooooom…. Ragnar Tørnquist <3 After Jane Jensen he's one of my biggest role models. *u*
I really should work on environments more. Everyone is aiming for character modelling so I don't know why I even bother, really. Well, okay. I do. I like making figures in Fimo, and I like animating those a'la Stopmotion. I would also like to create figures in 3D and animate those as well, to then create a story. FUN FUN FUN.
Eh, anyhow. I'll be working 9 to 5 every weekday with a project named Another Air. I'll be working with game mechanics. Let's hope I can live up to the task since this is the first time I've really done anything REAL concerning it. Hopefully I won't cross it with too much narrative, which was my last role in another project (which has now completely sunk to the bottom of the sea. Life goes on).
I probably won't have any time left for 3D, which is a bit sad in a way. I'm just starting to get the hang of it! Hmm, I guess that's what I will have the weekends for?
---
Next Page »